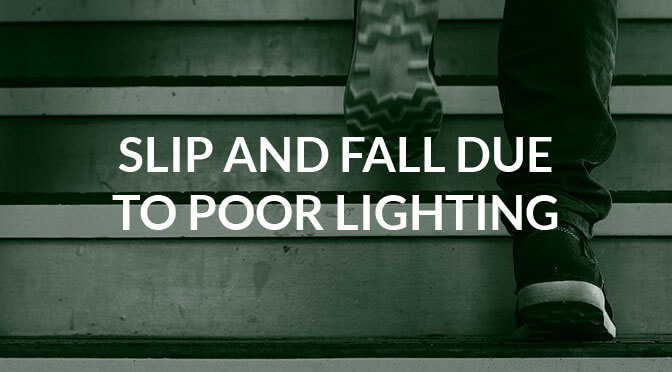 The simple things, such as level ground, dry surfaces, and adequate lighting ensure that we won't trip or sustain a slip and fall. While it may seem extremely simple and even obvious, many times they are overlooked. We often end up falling and injuring ourselves on these dangers that are improperly designed, improperly constructed, or not maintained.
Poor visibility due to inadequate lighting is one of the common reasons slip and fall accidents occur. If you do have an accident because of poor design and inadequate lighting you may even be entitled to compensation for your injuries.
Slip and Fall Accidents are Often Caused by Poor Lighting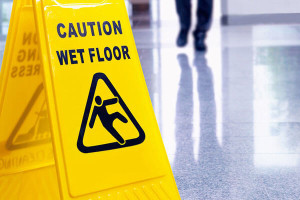 How lighting Causes Slip and Fall Accidents
Lighting can make in impact in how you navigate the area. When there is poor lighting, you may trip over something you would normally see if there was actually enough light. With adequate lighting, you would notice the last step in the stairway or the obstacle in the middle of the office. When you trip over avoidable obstacles due to poor lighting, the business owner may be responsible.
Lighting can protect you from other hazardous conditions. A hole in the ground or obstacle on the floor could still be dangerous even with adequate lighting. The poor lighting gives you almost no chance to spot the danger. It also prevents you from deciding if you want to take the risk of confronting the hazard at all. In each instance, lighting causes unsafe conditions and may be the reason you trip or slip and fall.
Lighting Requirements
The Occupational Safety and Health Administration of the United States Department of Labor requires work areas to have minimum illumination amounts for the safety of employees. Offices and first aid areas require a minimum of 30 foot-candles, which is defined as "the light level at a distance of one foot away from a standard unit candle." General construction plants and shops require 10 foot-candles and exits and stairways require at least five. These minimums must be met for employees, guests, clients and customers to prevent unsafe working conditions.
Common Areas with Inadequate Lighting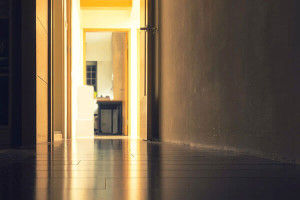 Stairwells
Hallways
Parking lots
Bathrooms
Pool areas
Mall shopping centers
Stadiums
What Happens when there is Not Adequate Lighting
When companies or employers fail to provide adequate lighting which then causes an employee or customer to trip, the injured person can file a negligent claim against the company for the state of the working conditions. The company whose working conditions were not up to OSHA's standards may be responsible for the injuries of the employee or customer. The injured may be able to receive compensation for loss of wages, medical bills, and pain and suffering. It is the property owner's duty to keep the premises well-lit according to OSHA's standards to prevent people from receiving injuries, failure to do so can even result in punitive damages.
If you tripped or slipped and fell and received injuries on a property due to inadequate lighting you could be entitled to compensation for the damages you received. Contacting an attorney right away and preserving evidence will be your top priority after getting treatment for your injuries. Many property owners will not fairly settle a claim without legal representation so contacting an attorney is extremely important when dealing with a slip and fall injury. Contact Scott Gegenheimer today for a consultation about the injury you received due to the poor lighting conditions in or around any buildings.
---
This site is intended purely as a resource guide for educational and informational purposes and is not intended to provide specific legal advice. Any information provided on this site should not be used as a substitute for competent legal advice from a professional attorney in your state. The use and receipt of the information offered on this site is not intended to create, nor does it create, an attorney-client relationship. The content of an e-mail sent to Scott T. Gegenheimer Attorney at Law or any of its attorneys will not create an attorney-client relationship and will not be treated as confidential.