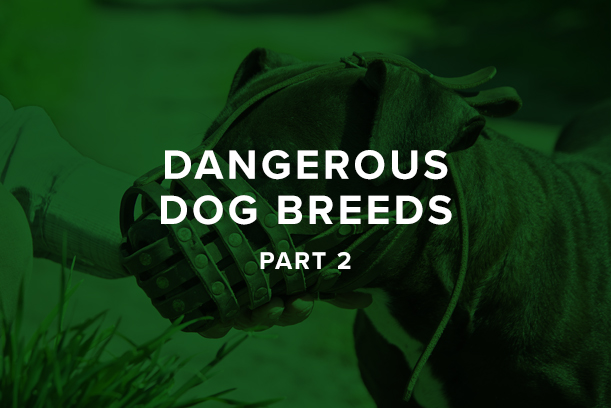 Certain dog breeds were bred for specific characteristics throughout the centuries. Whether they were bred for small size, herding instincts, or defensive traits, these characteristics were passed along in the designated breed until it was in their nature and part of the breed itself. While all dogs can benefit from training and exposure to situations thus calming some of the more aggressive characteristics, the complete suppression of an instinct is not reasonable. Dogs that were bred to be alert, defensive, and protective will show the signs of being a dangerous dog breed throughout their lives. It is best to know which dogs naturally have these characteristics and to be cautious when interacting with them.
Dangerous Dog Breeds Due to Breeding
The Akita is known to be a stubborn, protective, an unsocial breed. They are fiercely loyal and protective of their family and naturally suspicious of strangers. This dog breed was originally utilized for guard work and for large-game hunting, as they are capable of standing their ground against bears. Without proper socialization as a puppy, this large and muscular breed can become aggressive. They are known to be unfriendly toward other animals, children, and strangers.
Height

Females: 24-26 inches
Males: 26-28 inches

Weight
The Doberman Pinscher breed originally began in Germany and was bred to be loyal and protective. Over the years, the Doberman has added intelligence, speed, and stubborn qualities to its name and has been identified as aggressive in some situations. They were used in WWI and have been used as military and police dogs in various countries. They are extremely protective and loyal to their families and can be intimidating to strangers when given cause.
Height

Females: 24-26 inches
Males: 26-28 inches

Weight
This dog was bred as a working dog. Known for its intelligence and energy levels, the Giant Schnauzer was used to herd cattle and act as a guard dog. They were later incorporated into the role of a police dog in Germany. They tend to have bold personalities and work well as guard dogs due to their territorial natures. Schnauzers will alert their owners of trespassers without fail. They are suspicious of strangers and will do as they please without proper socialization and training, including guarding the house in any way they see fit.
Height

Females: 23.5-25.5 inches
Males: 25.5-27.5 inches

Weight:
Although small, these dogs were initially bred in Britain as fighting dogs. They have muscular bodies and large heads that often remind people of American Pitbull Terriers. Although they are known to be loving toward their family and friendly toward children and strangers, these dogs are highly aggressive toward other animals. Even with exposure to other dogs at a young age, this breed can be overly aggressive with other dogs throughout its lifetime.
Height

Females: 14-15 inches
Males: 15-16 inches

Weight
24-38 pounds
---
This site is intended purely as a resource guide for educational and informational purposes and is not intended to provide specific legal advice. Any information provided on this site should not be used as a substitute for competent legal advice from a professional attorney in your state. The use and receipt of the information offered on this site is not intended to create, nor does it create, an attorney-client relationship. The content of an e-mail sent to Scott T. Gegenheimer Attorney at Law or any of its attorneys will not create an attorney-client relationship and will not be treated as confidential.